We have a mating planned soon with our gorgeous girl MIA, check here for updates!!!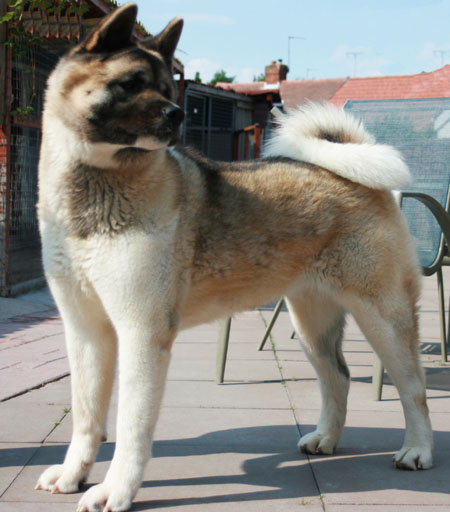 ** Please be 100% committed if you want one of our puppies, contact Karen on 07875272882 **
** A £200 deposit will be required to secure a puppy which is non-refundable, unless a puppy is not available **

There are always Akitas in rescue looking for that forever loving home, visit JAWT for further info...
This is Edie (JAWT 1028), please read her story: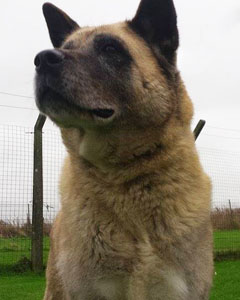 Introducing Edie! This absolute sweetheart of around 8 years old was left to her fate in a Yorkshire pound. Destined to be killed, JAWT moved her to their care to the wonderful kennels in Blackpool where she has absolutely thrived! Edie had a recent scare and underwent an operation for a full mammary strip which she has recovered well from. She loved a little spell of having sofa snuggles and we want to give that to her forever.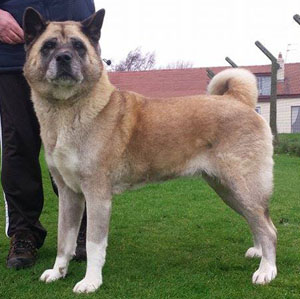 Could you offer Edie the laid back life style and lots of love we think she needs? Please get in touch for more information.
Please get in touch with JAWT: donna@jawt.co.uk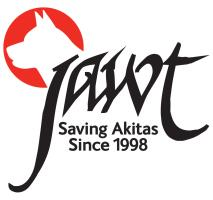 CHOOSING A PUPPY / BREEDER / TRAINING
Please be careful when you decide to purchase an Akita puppy. There are a number of people who breed Akitas just because they think there is a profit involved. They do not health screen their dogs nor do they breed to improve! Prospective Akita owners are given the wrong information and it is left to established breeders to pick up the pieces or this beautiful breed end up in rescue. Breeding Akitas is not a HOBBY but a life time commitment. Just because a puppy has left for its new home does not mean that our responsibility as breeders ends. Ask to see the parents of any puppy you are interested in, purchasing an Akita is a very important and costly decision, so you should only expect a top quality puppy bred from top quality parents. Ask the breeder: Have you ever judged Akitas? Have any of your dogs obtained a Stud Book Number (this qualifies a dog for Crufts for life)? This will at least give you a little knowledge into the commitment of the breeder.
Please do not let the above put you off finding out about the Akita breed.
Looking for an Akita puppy is a wonderful introduction to owning an Akita. Every puppy is beautiful, even a bad one. Do not let your heart choose your puppy. This is very easily done but let your mind rule your heart.
We believe Akita puppies should be full of themselves, confident and unafraid of strangers. See as many litters as you can and don't be afraid to ask questions. In choosing a puppy it may make a difference if you require a pet Akita or an Akita that you wish to show. For a pet Akita temperament is the first and foremost important factor. They make a first class pet on a one to one basis, they will protect and love all members of the family, beware to anyone that is a threat to his pack and owners should be well aware of the damage they are capable of should anyone threaten their family.
If you are thinking of showing your puppy, style and colour is most important. Any colour is acceptable in the breed standard but in our opinion is very important. A flashy dog/bitch is fetching to the eye, whether it is red, silver or any deep colouring. Watch for confident movement, although puppies can be all over the place at such an early age, they still strut their stuff.
DOG OR BITCH?
Do you want a dog or bitch? A dog can be hard work; because they are so big they are also boisterous as puppies. Lead training is a must and corrections to bad behaviour must be dealt with at an early age. There are many ways of dealing with bad behaviour either pulling on the lead or excitement towards other dogs or strangers. We have had most success with pulling by just standing still and restart when they have calmed down. If they pull again, stop. Patience is most important but this does work. When a puppy is more interested in other dogs or strangers we have found that a treat will make the dog more interested in you, this also takes time but is well worth the patience. Training an Akita will continue until they are up to 18 months old and can even continue after this. You may think you have the well-trained Akita but all of a sudden a male will find they wish to get to that tree quicker than you do, or your bitch will see that cat across the road. Keep up any training schedules you have until your Akita is well matured. Please remember you may have the best-trained dog in the world but the person walking up to you with their dog may not be. There are a lot of ignorant dog owners on the streets and it will always be the Akita that gets the bad name.
A bitch although still can be boisterous are easier to handler. We have found them easier to train, (not as stupid as the men). We have found them more friendly towards strangers coming into the house, but all Akitas are different, be careful and never think you Akita loves anyone they have never met before. Their temperament changes when in season and also being a bitch, attraction will occur from other male dogs in the area.
TIPS
Our daughter was 10 years old when we had our first Akita. They loved each other from day one. They both grew up together. Her friends would stay over on numerous occasions, but one day they started play fighting, the Akita warned her friends, which taught us a valuable lesson. Do not leave an Akita alone with anyone that is not a member of his or her pack. Akita's are a protective breed by nature. Never forget this.
We would invite anyone into our home to see our Akitas, if you have any doubt, but we must advise that caution must be taken, they may lick you to death!
The above information is only a brief look at the Akita. If there is a particular question you would like answered please do not hesitate to contact us.