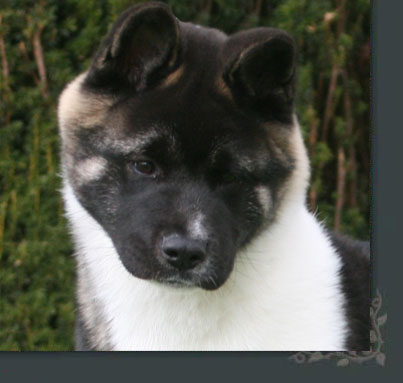 DOB: 18.12.2011
Sire: SW CH Echo Star's Touchdown
Dam: SW CH Viva Swartz Tempation
Erik was bred by Christel Claesson of the Viva Swartz kennels in Sweden. He is co-owned with Jan Page (Jackitasky Akita's) and myself Karen. From seeing his picture at 5 weeks old it was love at first sight for us both.
We really have to thank Christel for allowing Erik to share our home. He has a temperament to die for. He is so calm and gentle, such a pleasure and an honour to co-own this special boy.
We look forward to his bright future here in the UK.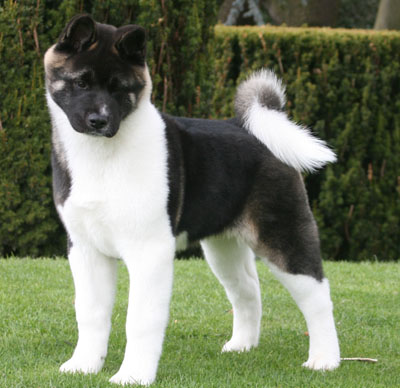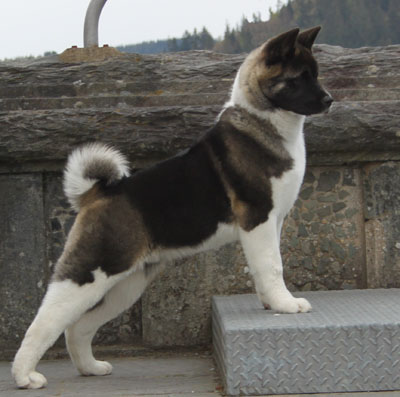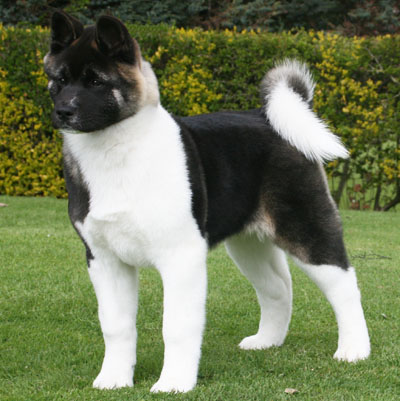 Show: July 2013 - Windsor Championship Show
Placed:1st Post Graduate Dog
Judge: Mrs M Harding
Judge's report: Lovely expression with good muzzle to skull proportions, correct ears used to full advantage, well padded cheeks, correct eye, very good pigmented, strong neck good length of upper arm, excellent topline & tailset, in full coat, moved with purpose.

Show: June 2013 - Three Counties Championship Show
Placed: Winner overall on the 3rd day of the Junior Stakes
Judge: Doreen Smillie
Judge's report: Rowley & Page's Viva Swartz Sexy & I Know it at Danti, a really fit animal, moved with power and drive, excellent muscle tone, good depth & coat, clean front, alert expression.

Show: May 2013 - Bath Championship Show
Placed: 1st Junior Dog
Judge: Mr M Windows
Judge's report: TBA

Show: July 2012 - Windsor Championship Show - Pro Plan Puppy Stakes
Placed: 1st Puppy Dog, Best Puppy and won the Stakes on the 4th day,
THEN Runner Up overall of the 4 days.
Judge: Mr G Haran
Judge's report: TBA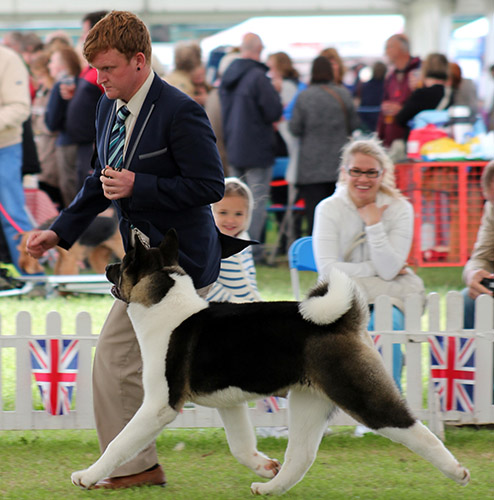 Show: June 2012 - Blackpool Championship Show
Placed: 1st Minor Puppy Dog
Judge: Mr Matthew Bostock
Judge's report: 1st Rowley & Page's Viva Swartz Sexy And I Know It At Danti, 6 months raw baby, b/w with grey markings, head developing, good dentition, dark eyes, good earset, good strong neck, correct front with good length of leg, nice tight feet, correct body proportions, tailset ok when settled, lovely side gait.

PEDIGREE: Viva Swartz Sexy And I Know It For Danti
SW Ch Echo Star's Touchdown
Int Champion Redwitch The Heat Is On
Ch Redwitch Feel Free To Stare
Barb Ch Redwitch Rave On at Elthor
Redwitch In Your Dreams
Redwitch Mitzi Naughty But Nice
UK/NOR Ch Redwitch Dancin In The Dark
Redwitch Better Believe It

Int Champion Redwitch Pardon Me Boys

Ch Redwitch Feel Free To Stare
Barb Ch Redwitch Rave On at Elthor
Redwitch In Your Dreams
Redwitch Mandait Dancer
Eng Ch Redwitch Prince Consort at Stecal
Eng Ch Redwitch Dancing Queen at Mandait
SW Ch Viva Swartz Tempation
SE Ch Viva Swartz Questions Are Welcome
Int Champion Redwitch Turning Heads
UK Ch Redwitch Heaven Can Wait
Redwitch Pardon Me Boys
SE Ch Viva Swartz Gucci Style
Echo Star's Limited Edition
Wonderworld's Laura
SE Ch Viva Swartz Jive Dancing
Echo Star's Limited Edition
UK Ch Redwitch I Rest My Case
Redwitch My Magic
Mac Conrads Caught Redhanded
Overhills Full Moon
Grey Lady of Overhill